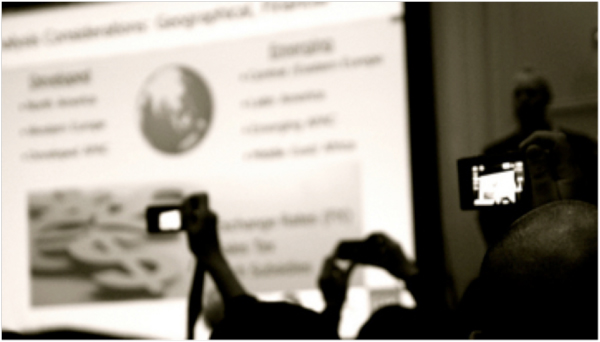 Video Everywhere
In 2009, Time Warner CEO Jeffry L. Bewkes commented in the press release, "Time Warner becomes contents-focused company."He calls this strategy "TV Everywhere".
Three years later, we are now experiencing, "Video Everywhere".
London Olympics
Most smart phones now sold in the market preinstall a video-editing tool. There is a free app that provides the video filters such as black and white, blur, 3D like, so that you can edit your video as you like. The smartphone become a professional camera in hand that you can take, edit and share images.
In the last August, I saw a good example that the smartphone changed the media landscape.
At the Opening Ceremony of London Olympics, lots of smartphones craved the flamboyant scenery.
Mr. LeBron James instagramed the fireworks from the field to his five million twitter followers. Mr. Usain Bolt tweeted the photo with a friend. Sir. Paul McCartney uploaded a photo taken on the stage on Facebook timeline right after his performance. More than twenty thousand people clicked "Like" on his photo.
These images gave us the alternative view point rather than that delivered by the mass media.
Athletes' Activity Like Media
Athletes were supposed to be the objects for the media who they wanted to interview with. Media positioned themselves in between the athletes and the readers and viewers.
But, at the London Olympics, athletes could express themselves by using the smartphone and the social media. They could tweet what they were feeling right before the game, from the place where media prohibited from entering. Athletes acted like media.
Image Communications on the Rise
In the social media sphere, the quality of images does not matter. People don't want to appreciate a masterpiece. Instead, they want to "RT", retweeting. The fans want to react, share and cheer up the favorite athletes. Images are easier than text to do that. Texts can deliver less information than images so that you can find more points to react.
Images became the way of communications.
Video has commoditized
Thirty years ago only the professionals could handle the video camera. At the time the Beijing Olympics was held, there were only six million iPhone users. Now more than 270 million iPhone are in the market. In 2012, four hundred million smartphones are shipped every quarter and they all have cameras. On YouTube sixty hours of new videos are uploaded every minute.
Anybody can shoot video. Video is no longer the content but the communication tools.
Video Everywhere has come.